Professor Dame Carol V. Robinson, Dr. Lee's Professor of Chemistry and director of the Kavli Institute for Nanoscience Discovery at the University of Oxford, will be honored next week in a special symposium celebrating her as the 2020 recipient of the A.I. Scott Medal for Excellence in Biological Chemistry Research, named for one of the leading faculty members in Texas A&M University's rich chemistry-related history.
The medal is jointly awarded each year by the Texas A&M Department of Chemistry and the Texas A&M Section of the American Chemical Society (ACS) in tribute to Dr. A. Ian Scott, a Texas A&M distinguished professor of chemistry who made tremendous scientific contributions, both to the university and to the international chemistry community, during his 30-year career.
As the medal's 2020 recipient, Robinson originally was scheduled to headline the annual Scott Medal Symposium in fall 2020, but the event was canceled due to the COVID-19 pandemic. Instead, she will be celebrated in a special Scott Medal Symposium, scheduled for Friday, June 2, in Room 2104 of the Chemistry Building.
In addition to Robinson's 4 p.m. keynote presentation, "The Promises and Pitfalls of Native Mass Spectrometry," the event will feature preceding talks by two Texas A&M chemists, Dr. Xin Yan and Dr. Arthur Laganowsky. Robinson will be presented with the Scott Medal at the conclusion of her presentation.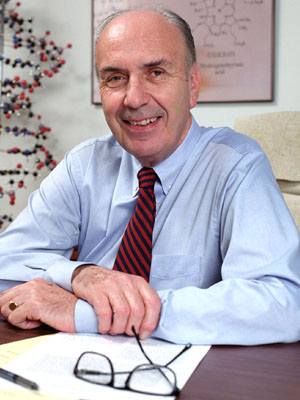 Scott was a pioneering chemist who came to Texas A&M in 1977 and achieved worldwide recognition for his discovery of how bacteria produce vitamin B12 as well as his study of the cancer drug taxol. Named a distinguished professor of chemistry and biochemistry at Texas A&M in 1981, Scott held the Robert A. Welch Chair in Chemistry and also was the D.H.R. Barton Professor of Chemistry. He contributed to numerous other works, including breakthroughs related to the essential life pigments chlorophyll and heme along with antibiotics that fundamentally impacted the field of biosynthetic investigation and helped revolutionize both organic and natural product chemistry, before his untimely death in 2007 at age 79.
Robinson began her career at the age of 16 as a laboratory technician with Pfizer, working with the then-novel technique of mass spectrometry. After earning a master of science at the University of Swansea and her Ph.D. at the University of Cambridge, she completed a postdoctoral training fellowship at the University of Bristol. She then took up a junior position in the mass spectrometry unit at the University Oxford, where she first began analyzing protein folding. In 2001, Robinson became the first female professor of chemistry at Cambridge. Eight years later, she accomplished the same historic first at Oxford along with a simultaneous appointment to the Dr. Lee's Chair in Chemistry.
Robinson is internationally recognized for establishing mass spectrometry as a viable technology to study the structure, function and interactions of proteins and their complexes. The central tenet of her research featuring collaborations that span both academic and industrial laboratories is the use of native mass spectrometry — a technique that enables interactions of proteins to be maintained in the gas phase — to complement other biophysical approaches. Together with her research group, she continues to develop and adapt native mass spectrometry methods for application in a range of fundamental and applied research goals in her efforts to solve some of the most vexing research challenges of our time.
In 2016, Robinson co-founded a spin-out company, OMass Technologies. Now trading as OMass Therapeutics, the company uses high definition native mass spectrometry to develop drug therapies for use in immunologic and genetic disorders.
Robinson's research has attracted numerous international awards and distinctions, including the 2022 Benjamin Franklin Medal in Chemistry, the 2022 Louis Jeantet Prize for Medicine, the European Chemistry Society's 2021 Gold Medal, the Science History Institute's 2020 Othmer Gold Medal, the Royal Academy of Belgium's Academy Prize and the Royal Society of Chemistry's 2019 Royal Medal.
A fellow (2004) and former president (2018-2020) of the Royal Society of Chemistry, Robinson also is an international honorary member of the American Academy of Arts and Sciences (2021) and a foreign associate of the U.S. National Academy of Sciences (2017). She was appointed as Dame Commander of the Order of the British Empire (DBE) in 2013 for her contributions to science and industry.
For more information on the Scott Medal Symposium, contact Texas A&M Chemistry at (979) 845-9829 or via email at chemhead@chem.tamu.edu.